My latest story is a wonderfully wicked female to female body swap called The Princess Proxy. It's available on Smashwords and Amazon. Preview below.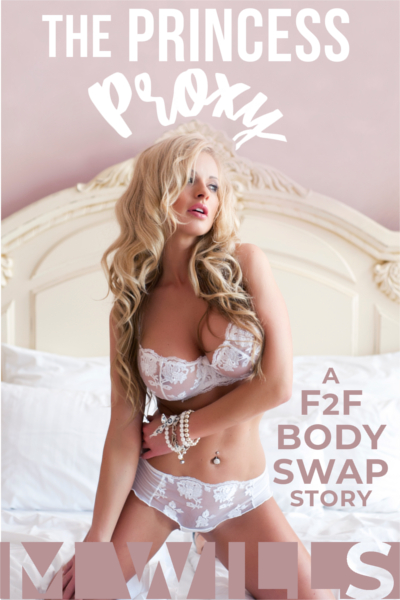 When brilliant but plain Allison swaps bodies with the gorgeous, snobby cheerleader, Brianna for a week in order to take her tests, both students have to adjust to very different lives and explore very different bodies.
---
Allison had formed a pretty good mental picture of what Brianna's room would look like and she was not disappointed. It was palatial. Plush and painted a deep peacock blue. Whoever Brianna had hired to decorate it had leaned pretty hard on the harem aesthetic: piles of pillows, acres of fabric and soft lighting. Opening adjoining doors at random, she found a bathroom, a private balcony and a dressing room heaving with expensive clothes and what was, she assumed, a shrine to shoes.
Feeling somewhat overawed, she decided to simply focus on the job – fix Brianna's grades. Determined to get some of the homework backlog out of the way, she went in search of Brianna's computer, eventually locating a Macbook under a copy of British Vogue and a pair of pink and black panties that somehow managed to straddle the aesthetic between sophisticate and streetwalker. Allison tossed the panties aside—expensive lace and lurid colors (Brianna's entire persona summed up in underwear form) sailing across the room—and got to work on rewriting an overdue biology assignment.
And then Brianna's phone chimed with a text:
REX: Still grounded?
Allison flicked a thumb across Brianna's phone and went to the messages. There was a long string of conversations between Rex and Brianna. Apparently they'd been flirting for some time. Allison decided to reply with something innocuous.
Yeah. Who even cares about grades anyway?
REX: I missed you after school. 🙁
You too.
REX: So….about that thing we talked about. Can I get a pic of your tits?
Allison chortled. Was this really happening? She quickly skimmed the message history and found, sure enough, Brianna had hinted that she would send some pics of her tits Rex's way. Allison considered her contractual obligation to 'act in a manner in keeping with the typical behavior of the host body' and to 'maintain the reputation and routine of the host'. In the end, the memory of her flashing her panties was too much. Still, thought, it was nice to flirt.
Why does the girl always have to send pics? She texted, When do I get my dick pic? :p
There was no response for a minute. The next time her phone dinged there it was: a picture of Rex Branson's cock. Holy shit! She stared at it, both intrigued and appalled. It filled his underpants, apparently at half mast and looked dangerous, like a snake waiting to strike. She wondered what it would be like to hold in her hands. Would it feel big? Heavy? What would it feel like to stoke it? To listen to Rex groan appreciatively? To have it inside her?
Allison couldn't concentrate on the homework in front of her, not with her thoughts twisting towards desire and her panties growing damp. She managed to text back: Mmmm, yummy. Then she slid her skirt down her legs and pressed her fingers against Brianna's dampening white panties. Her panties, like everything else about Brianna, were lacy and intricately feminine. As she pressed her fingers against the sheer fabric she saw the indentations of the lips of her pussy and the short blonde pubic hair surrounding it.
Fuck, she'd never done this in anyone else's body. She'd never had the urge to. But there was something about Brianna's perfect legs, her smooth golden skin, that called to Allison. Allison pressed harder against her panties, rubbing slowly as warmth began filling her. She looked back at the picture of the phone, imagined Rex's thick cock sliding against her.
---
Read the rest on Smashwords and Amazon .