When Oliver's machine malfunctions it causes his family to swap bodies with his friend's family next door, leaving Oliver in the body of a hot MILF. They're all quarantined for two weeks, which gives them plenty of time to explore their incredible new bodies in Stuck Inside, available on Smashwords, Amazon, or wherever ebooks are sold.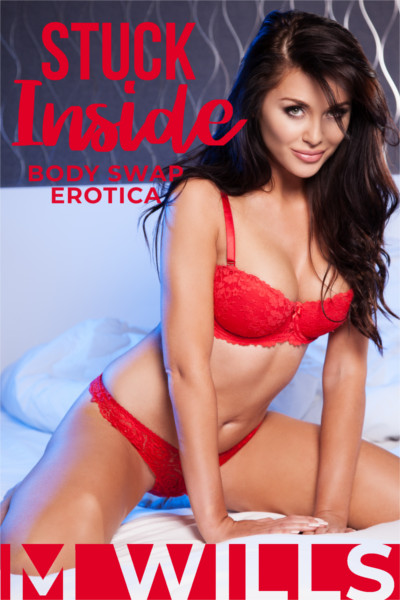 They hurried back over to Oliver's side of the townhouse. Jess's body was as tall as his own, though she had much less mass. Oliver felt more delicate in some indefinable way as he jogged down the basement stairs. His frame was so light, his muscles so toned that jogging was a breeze.
The basement was a mess. The window was open but it still smelled of burnt plastic. Most of the machine seemed to be intact, except for one of the computer towers in the main column. The explosion had evidently come from there, because there was a char mark on the floor and ceiling, and the innards of the machine were twisted and melted.
Oliver poked through the machine, pulling apart components and examining wires. He had the base apart and in several pieces on the floor, and was taking an inventory of what might still work when Will and Jess came down the stairs.
Jess—now in her son's body—thunked down each step, evidently not used to her heavier size. Her hair was sticking up at a crazy angle and there were dark circles under her eyes. Will had his arm around her for comfort. Lisa was standing near the monitors, hands on her hips in her classic stance, the cocked hip looking a lot funnier on Oliver's body.
"What do you think?" Will asked, when he reached the bottom.
Oliver stood up and ran a hand through his silky hair. "Good news is I think the most important components are still intact. But I can't be sure until I do a full check." He yawned, covering his mouth with one hand, fingers landing on his tiny nose. "But I can barely keep my eyes open. What time is it?"
Lisa glanced down at her wrist, but it was bare. The watch she normally wore was on her former body. She gently grabbed Will's wrist and looked at the time.
"Past midnight."
"Look," Oliver said, "I can't do anything tonight. Let's reconvene tomorrow and I'll take a closer look."
With some reluctance, the others agreed. It was also agreed that they would sleep in their own beds to try to retain some sense of normalcy. So it was that, soon after, Oliver tucked himself into his familiar bed, in his familiar room, in the body of a woman that he'd longed to be intimately familiar with.
He switched off the light, but despite his exhaustion he just couldn't sleep. He tossed and turned, his body jiggling in strange ways, Jess's long pajama shirt getting crumpled up beneath him. He lay on his side for a long while, slender legs tucked against each other. Every time he shifted he became aware of her body as though for the first time, as his long, smooth legs whispered against each other, or he scratched an itch on his soft cheek. His thoughts were as restless as his body. It was agonizing sharing a bed with Jess and finally he sat up and clicked on the light. He knew it was wrong to explore Jess's body but he would never get to sleep unless he could calm that ember of desire that had been sitting in his belly ever since he discovered himself in her body.
He unbuttoned his shirt and slipped out of it, tossing it to the floor before gaping down at his breasts. They were breathtaking. Shapely and delicate, they fit snugly into each hand. Oliver gently probed their warmth, squeezing them together and releasing them to let them bounce back. He teased one of his nipples with a light finger, caressing it into a sharp point. It was so much more sensitive than when he was a man. Pleasure trickled through him as he watched Jess play with her tits. Oliver took a nipple in one hand and pulled slowly, stretching it out before letting it snap back into position. At each touch, the trickle of pleasure flowed more freely, and soon he was running his hands up and down his breasts and his stomach, feeling up his new body.
A little sigh escaped his lips and he threw back the covers, revealing Jess's wonderfully tanned legs. He dragged his fingers up and down his inner thigh. His own touch sent little goosebumps through him and made him shiver with delight. He stared down at Jess's hands as he stroked her body, fingers gliding over the panties. He touched the silky fabric, pressed gently until it sunk slightly into him, the coarse pubic hair growing faintly visible beneath the thin panties. There was an urgency there calling him and when he pulled his finger away he found a spot of moisture.
---
Read the rest on Smashwords, Amazon, or wherever ebooks are sold.